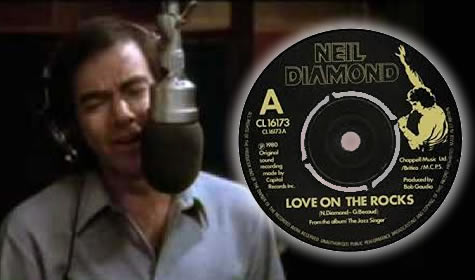 Neil Diamond and his hit song from the 1981 movie The Jazz Singer
A hit from 1980 when the record industry was at its zenith. Theme song for a remake of a movie from 1927. Like  lot of movies in the late 70s and early 80s The jazz singer was panned by movie critics.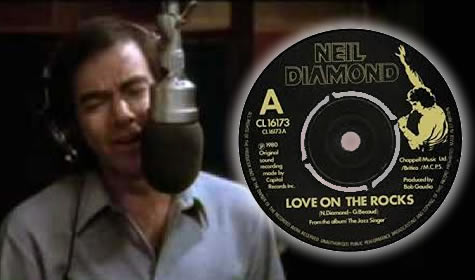 But the sound tracks was a huge success and this hit for Neil Diamond has become a iconic tune ringing down the radio airwaves. It was a hit on 1981 making it No 2 in the US Hot 100 just behind John Lennon's classic Starting Over. It was No. 3 in the US contemporary charts and music industry data tells us that the song was the 26th best selling song from 1981.
The song has since featured regularly on FM formats on radios stations in America and around the world. The theme Love on the Rocks certainly resonates with a huge middle aged market dealing with the new world of love and romance. Reminiscent of some of Sinatra's famous songs, the ballad evokes the pain suffered by men when love goes south. Many pop music and radio industry fans find Love on the Rocks whn of Neil Diamond's best songs and it is one that we remember on Capitol.fm.fm. Love on the Rocks – ain't no big surprise – after all it's a Love thing on your World Station.